Saturday 27th of September, the bravest of our just welcomed members await their first tourney. Experience? For most only 3 trainings (introduction clinic). But… these guys have been trained by Chris himself, let's go!
At some point we meet up with Merit (Ultimaas) and Peter (Flying High) who decide to join our forces (appreciated 🙂 ). WAF/Wageningen organized this tourney and arranged shirts (thanks guys). After making sure we are the best looking team around (thanks to Merit's fashion advise), it is ultimate time…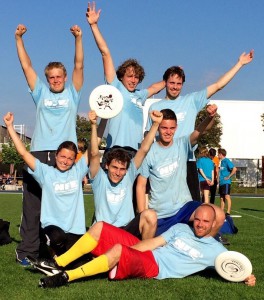 Pool stage; awesome to see everyone grow in only a few hours. Small defensive mistakes start to make way for awesome lay-outs. Although we were one of the least experienced teams out there, we manage to win enough games to become second of our pool. We celebrated accordingly by doing spirit games, enjoying the perfect weather and eating Bart's railwaycandy.
Finals; only one more game, will we be third or fourth? Our opponent is Bfrisbee2s, familiar faces, this will be a really tough match. Ignore the cramps, shut of the tiredness, full focus; will it be enough? When we are 4-1 behind, we decide it is all or nothing; we completely change our defense strategy. It works, with our spirit boosted we give it all; 5-5, time. Boy, what a game this is. Our flow is going, but Bfrisbee2s is not giving this one away. Universe point; one point that will decide it all…
At home with a well-deserved beer in my hand, I start to rethink this final match; amazing cuts from everyone, defense any team can be proud of, and that after only a few trainings. We won; third place, on the first tournament, can you imagine how mint this team will be in a few months?
Just to give a heads-up to all teams out there …
a new generation of Vertigo players is ready
Rolf