Eindhoven and National Sportsweek! We got a visit from sportdirector Mark van Ginneken from Eindhoven Sport. Check out this video about Vertigo and Ultimate frisbee!
---
Welcome to Vertigo!
Vertigo is an ultimate frisbee association for everyone in Eindhoven. We are an international group of students, young-professionals and exchange students. We train and play frisbee together once or twice a week to get better, learn from each other and to have fun!
About Ultimate Frisbee; the sport is a fast and dynamic non-contact team sport, played with a flying disc (frisbee) on a field as tall as a soccer field. During the trainings you will learn various throwing techniques and do a lot of running by chasing discs and opponents. The sport is known for it's international and open culture and fair play. The Netherlands have a national competition, in which Vertigo joins with a mixed team, open team and women's team.
If you'd like to have a try-out practice, clinic or want to know more about Ultimate Frisbee, please contact us ! We welcome everyone on the field, no matter your level of experience.
See you on the field!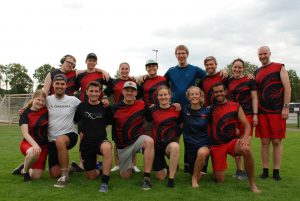 You can follow us on Instagram and Facebook!
---
Interested in a frisbee disc? You can buy one with our logo for 10 euro's! We will deliver them only in Eindhoven and by bike courier. If you want a disc, sent us an email: contact@vertigo-frisbee.nl