A Trip to the beach.
The Vertigo team was keen to get the sand between their toes and have an amazing day of Ultimate. The first tournament of 2020 was about to become a reality, something we had all been waiting for 7.5 months. That excitement was not just in the team from Eindhoven, it came from all around the country with sixteen teams making it to IJmuiden beach.
Beach Ultimate = Ultimate Frisbee, with 4 players instead of 7, 6 seconds to throw the disc instead of 10, a smaller field, the disc in first throw (the pull) has to be upside down and a whole lot of friction from the sand you're running in.
Naïvely I thought that with 8 players, every point we would substitute 1 and the other 3 keep playing. This way we could continue the flow of the game better and keep improving point by point. The more experienced players already knew the best way forward was 4 on, 4 off; every point. 60 seconds into the first game I knew the others were right, sprinting through the sand to chase the disc was more work than I anticipated. I was grateful that 7 other players decided to join, including some brand-new Vertigo members.
At some point in the morning I overheard Danker repeat an answer he gave to someone from a different team. The question was "Why do we never recognize any Vertigo team members" to which Danker answered something along the lines of "Vertigo is the most open Ultimate team in the Netherlands, we welcome everyone and focus on giving all our players time on the field with the disc in hand". There were more teams like this in IJmuiden that day but it's one of the things I enjoy most of Ultimate – team spirit, friendliness and inclusion – and Vertigo has a lot of it.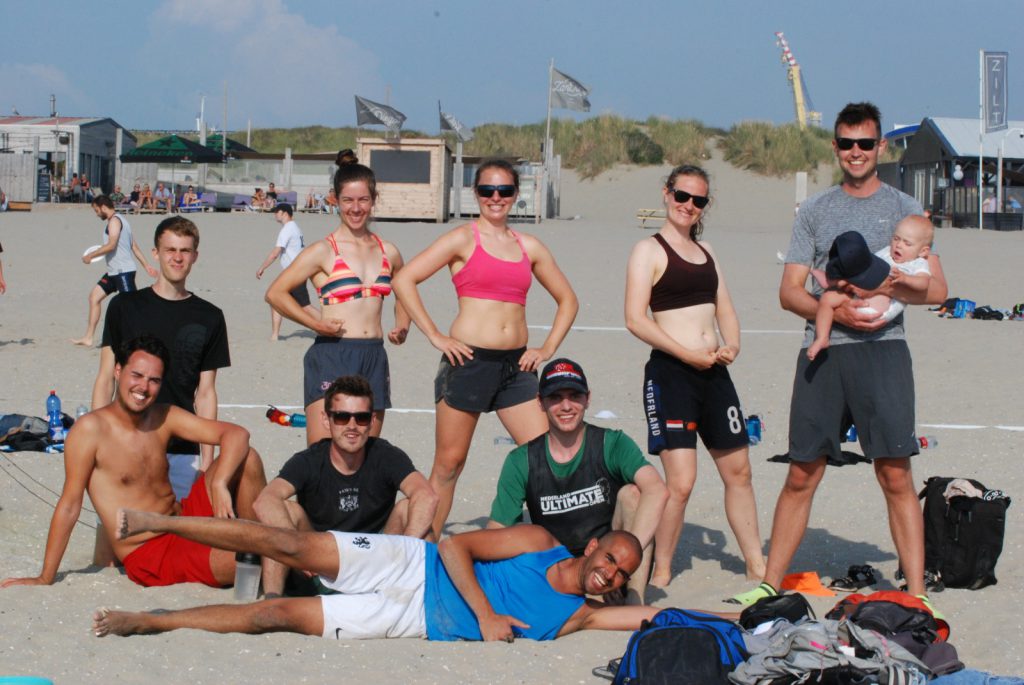 Our opponents were a mixed bunch of people, we played against teams from Den Bosch, Groningen, Amsterdam, another team from Amsterdam, Enschede and Den Bosch again. Some all-male, some mixed, some old, some young, some people from the national team, some beginners. Altogether a very diverse range of teams, plays and strategies. Spirit was high, we tended to give each opposing team a 3 out of 4, and even though we got our butts kicked some time (umm 20-1) in other games the scores were very close and each point was earned.
As the day went on, the sand got hotter, the sun more intense, the sea-shells sharper and the holes in the socks bigger (for people who did not take beach volleyball socks). Luckily the 30 min break in between each game gave ample opportunity for refreshing dips in the North Sea. The day came to an end, celebratory beers & ice teas were shared and everyone looked back at an good-old-fashioned day of beach Ultimate.